Chez Nous Corporate can help you make your informal meeting, conference or training day a success with a high quality and beautifully presented morning tea. We make it easy for you to impress your clients, guests and boost employee morale.
Good food brings people together
and creates memorable moments
Have you ever attended an event and been let down by the quality of the food? It's disappointing. Create a memorable moment with a selection of fresh, colourful and delicious food at your next corporate event.
The benefit of hosting a corporate morning tea, instead of a breakfast, is that you can offer a range of finger foods and lighter options. There's no need to sit down to a traditional menu of bacon, eggs and hash browns. With a corporate morning tea, you can have a palette of modern and traditional elements, mixing tastes, textures and colours for something that is truly memorable. At a morning tea event, you can mix finger foods, sandwiches, gourmet wraps, hot and cold platters, fruit and cheese, to create a sumptuous array of beautiful foods.
We've put together a list of seven different morning tea ideas to inspire you. Our Brisbane catering company, will make your next event a success with sensational food and great service.
Cheese and seasonal fruit
A gorgeous fruit platter, overflowing with seasonal and sliced fresh fruit, is a colourful and healthy addition to your corporate morning tea. Try our Fromage Delights platter including cheeses with seasonal fruit or a traditional cheese platter, with muscatels, nuts and crackers. The Australian Dietary Guidelines recommends two serves of fruit daily. What better way to get the recommended amount of fruit than a healthy fruit platter with the added goodness of fibre? Cheese contains calcium and protein and is part of a healthy diet.
Satisfy the sweet tooth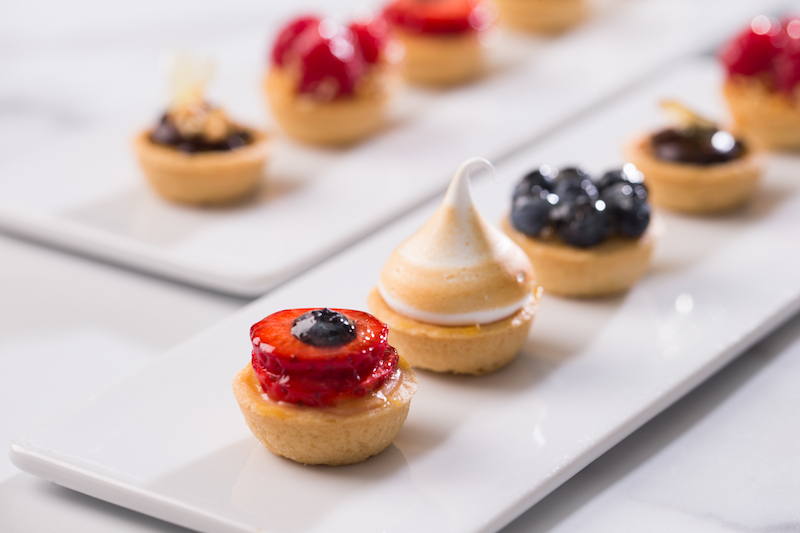 What would a corporate morning tea be without a few sweet treats? Eaten in moderation, sweets and cakes are a delicious addition to a corporate catered events. Our sumptuous sweets are filled with favourites like caramel, chocolate and cream. Get in quick! These treats won't last long at your corporate event.
Mixed mini sweet tarts
Who can resist the 'I've died and gone to heaven' moment when you bite into a sweet and goeey caramel mini sweet tart? Our mixed mini sweet tarts come in the decadent flavours of caramel, lemon curd, passionfruit, raspberry cheesecake and macadamia nut. So good and ever so delicious. These little tarts are the bees knees.
Danish pastries
You can't go wrong with mini Danish pastries at a corporate morning tea. These classic Danish pastries are made of crispy, flaky dough and have a soft filling of delicious fruits. What can you say, but YUM? For a traditional morning tea option, mini pikelets with jam and cream are always popular. These pikelets are like the homemade treats you would get at your grandparent's house.
Something savoury
Balance the sweetness of fresh fruit and treats, with savoury finger foods. We offer a range of hot gourmet bites in irresistible flavours like mini leek gruyere rocket frittata, gourmet mini vegetarian burgers and smoked salmon and chive mini quiche. Filled with the goodness and protein of eggs, a frittata and quiche are nutritious choices. A range of tasty gourmet finger foods will give your morning tea a contemporary twist.
Gourmet wraps and sandwiches
Forget bland egg and lettuce sandwiches on white bread. Our talented chefs ensure your gourmet wraps and sandwich platters burst with colour and have an eclectic mix of flavours and ingredients. The key to making the flavours pop is to combine different sandwich textures. We can mix different types of breads including toasted turkish bread, bagels and focaccia, adding a mix of textures and colours. A good selection of sandwiches will have a range of flavours to satisfy everyone's tastes. Whether your guest is a vegetarian, has a gluten free diet or other dietary requirements, a good sandwich selection should meet these different needs. Try a mix of gourmet fillings including smoked salmon, rare roast beef, leg ham, fresh tomato, mixed lettuce, bagels with salad, olive focaccia and grained bread rolls. Fresh, quality produce and seasonal products make gourmet sandwiches a spectacular selection. At Chez Nouz Corporate, all our breads are baked fresh and cut into halves, making them the perfect finger food.
Gluten free
A growing number of people eat gluten free food, for dietary and lifestyle reasons. At Chez Nous Corporate, we cater to every dietary requirement and have a fabulous range of gluten free, morning tea options. Our gluten free sweets platter overflows with decadent treats that will satisfy every sweet tooth. Mini quiches, leek gruyere rocket frittatas, gourmet wraps and sandwiches, are available as gluten free options. A beautiful array of gluten free food, with fresh, seasonal produce will help you make your corporate morning tea a success.
Vegetarian options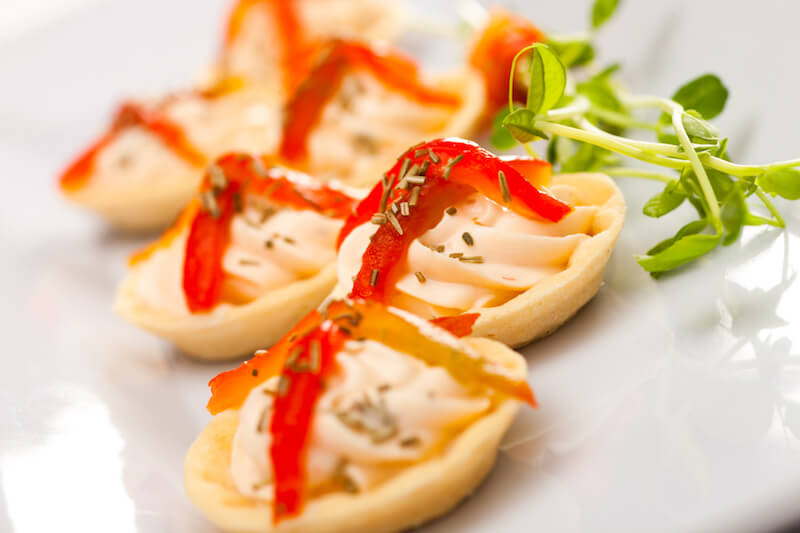 A corporate morning tea isn't complete without a range of vegetarian options. We make scrumptuous corn and zucchini fritters, gourmet mini vegetarian burgers, sandwiches and wraps. Here's a few vegetarian choices for your morning tea:
• Fetta, rocket and mushroom bruschetta.
• Pumpkin, spinach and fetta tartlets.
• Petite cherry tomato, basil and bocconcini skewers.
• Roma tomato and haloumi mini quiches.
These choices are so tasty that it doesn't matter if your guests are vegetarian. Everyone will enjoy the fresh flavours and colourful vegetables in these tarts, quiches, sandwiches and more.
Cold gourmet bites
A selection of cold gourmet bites are the ideal finger foods. Some popular choices include
fetta, rocket and mushroom bruschetta, caramelised red pepper rosemary tartlets, toasted Turkish squares with roast beef and pesto cream.
Croissants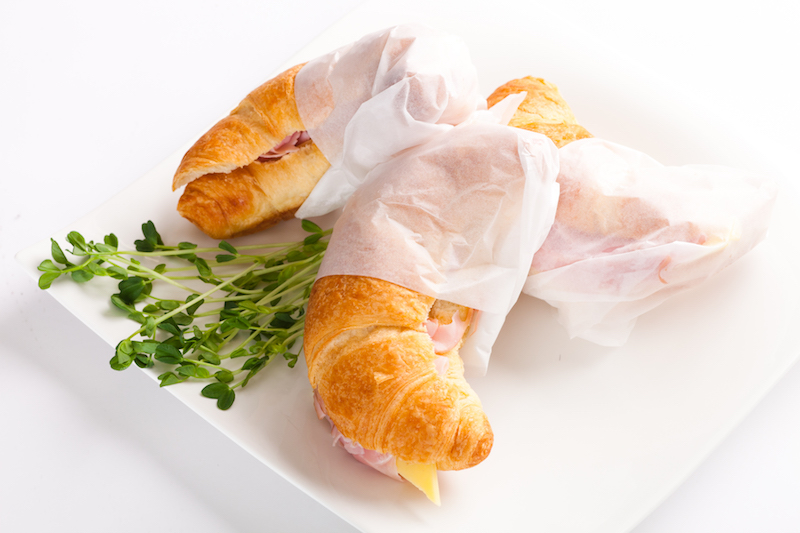 Mini croissants are the ideal size for a corporate morning tea as they are easy and quick to eat. Who doesn't love buttery soft croissant dough with a mix of traditional fillings like ham, cheese and tomato?
Muffins
By mid-morning, your guests may be feeling pekish and a muffin will give them the energy they need to last until lunch. We offer you a range of delicious sweet and savoury muffins. Chocoholics will love our mini sweet chocolate dipped muffins. Oh my! These muffins are soooo good, that the plate will be polished off in a few minutes. Mini fruit and sweet delightful muffins are scrumptuous. For a savoury choice, why not try a savoury large muffin with sour cream and chutney? Sour cream and chutney are a super tasty combination.
Ready to start creating your perfect corporate morning? Contact us today to discuss your event. Our professional team service the Brisbane and surrounds area and will help you make your event a success.